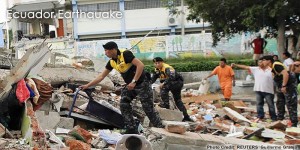 On April 16th, a massive 7.8 earthquake hit Northern Ecuador at 6:58 PM local time. The worst damage was reported in the village of Pedernales, population 55,000, which was declared a "disaster zone". Access has been limited due to damages to infrastructure. Authorities report 525 dead (85 per cent in the province of Manabí), 4,605 injured, and 23,506 in temporary shelters. Also, many buildings and roads have been destroyed or damaged. In response, eight shelters have been established: three in Esmeraldas, three in Babahoyo, two in Guayas, one in Santo Domingo, one in Portoviejo and one in Quito. According to UNICEF, preliminary government reports state that the earthquake damaged 119 schools, affecting 88,000 children. Some 805 buildings have been destroyed and 608 have been damaged. Two hospitals have entirely collapsed in Portoviejo and Chone.
Rosa Matamoros, of the ACT Alliance, says "Authorities of the official disaster response system Secretary of Risk Management is taking urgent and extreme measures in order to reduce the aftermath consequences related to troubles with corpse management and other health risks." Our partners on the ground are already determined a preliminary response, including but not limited to:
Food Aid and Nutrition
Water and Sanitation
Psychosocial Community Based Services (based on needs)
Training for Local Response Management Participants
Working with our trusted partners, Lutheran Disaster Response will help those in need, especially those living in smaller cities and regions that are vulnerable and in need of immediate assistance. Lutheran Disaster Response is continuing to gather information from affected areas and has started to establish coordination with the government and other relief agencies.
Be a part of the response:
Pray
Continue to pray for the people affected by the earthquake, may God's healing presence comfort them in their time of need.
Give
Gifts to Lutheran Disaster Response, International will be used to assist those directly impacted by the earthquake until the response is complete. (Select Lutheran Disaster Response, International from the Designation drop-down list.)
Connect
To learn more about the situation and the ELCA's response:
Use this bulletin insert to inform your congregation and encourage support.
Sign up to receive Lutheran Disaster Response alerts.
The post Ecuador Earthquake appeared first on Lutheran Disaster Response.